---
Research Guru / Moderator

Posted:
Jul 16, 2010, 3:59 PM
Actor James Gammon, 70, starred in "Iron Giant"

---
Gravelly-voiced actor James "Jim" Gammon, famed for his many cowboy roles in TV and movie Westerns, died at 8:30 a.m. Friday in his Costa Mesa, California home, longtime friend Rob Word said. He was 70.

The cause of death was adrenal gland and liver cancer. For about the past year, he and his wife Nancy lived part-time in Costa Mesa with one of their daughters and her family.

Gammon provided the voices of Marv Loach, Floyd Turbeaux and General Sudokoff in the 1999 Warner Bros. feature film The Iron Giant.

In Two Wheels, Full Throttle, No Brakes, a 2003 episode of Disney's Fillmore!, he guested as Doc Hemlock.

Although he was diagnosed with cancer several years ago, he and his wife thought that he had beaten it, his wife said. He was hospitalized again about a month. With surgery and chemotherapy not possible at his age, he chose to come home to spend his final hours and was released a few days ago.

Gammon had a regular role as Nick Bridges, the father of the title character portrayed by Don Johnson, in Johnson's 1996-2001 Nash Bridges series. In the crime show, Gammon's character had Alzheimer's disease; he kept getting kicked out of retirement homes and dropping by to visit his son.

Despite playing Johnson's father in Nash Bridges and the 1985 TV-movie The Long Hot Summer, he actually was less than 10 years older than Johnson.

He was nominated for Broadway's 1996 Tony Award as Best Actor (Featured Role - Play) for a revival of Sam Shepard's Buried Child. The role won him a Joseph Jefferson Award for Best Principal Actor.

Born in Newman, Illinois on April 20, 1940, he attended Boone High School in Orlando, Florida.

Gammon was initially a TV cameraman before breaking into acting. He guested on several TV series before making his feature film debut in an uncredited role as Sleepy in Cool Hand Luke (1967). He had recurring roles in The Waltons as Zack Rosswell, Bagdad Cafe as Rudy, and Homefront as Coach Zelnick.

In movies, Gammon portrayed Cleveland Indians coach Lou Brown in the 1989 baseball comedy Major League and its 1994 sequel, Major League II.

Other films included Urban Cowboy (1980), Silverado and Noon Wine (both 1985), The Adventures of Huck Finn (1993), Wyatt Earp (1994), Wild Bill and Truman (both 1995), Cold Mountain (2003) and Appaloosa (2008).

The Gammon family considered Marion County, Florida their permanent home. They moved there from Los Angeles in 1988.

The Gammons had a nine-acre thoroughbred farm, which they named Milagro for the 1988 movie The Milagro Beanfield War, in which Gammon played Horsethief Shorty.

Gammon loved horses as much as acting, said old friend Lair Glaudell, who has managed Milagro Farm.

"Jim was a very passionate man about everything he did. He loved his horses. He was a terrific family man. As an actor, he was immediately recognized by people."

"That gravelly voice. There wasn't anybody who talked like him," said Mary Britt, executive director of Ocala Civic Theatre. "I would be in the other room and hear that voice, and I'd know instantly it was him."

Besides his wife, James Gammon is survived by daughters Allison Mann of Costa Mesa and Amy Gammon of West Hollywood, California, and by two grandchildren, Hudson and Henry Mann.

Gammon will be cremated, said his wife Nancy. Few arrangements have been made yet, but the family hopes to have a memorial service in the next few days at the MET Theatre, which he founded in Los Angeles in 1973.

In lieu of flowers, the family requested donations to the American Cancer Society.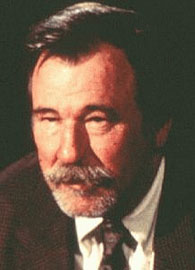 [Via Ocala Star-Banner -- http://www.ocala.com/...s?p=all&tc=pgall]

(This post was edited by eminovitz on Jul 18, 2010, 10:19 PM)