---
Research Guru / Moderator

Posted:
Dec 9, 2006, 10:26 PM
British actor Anthony Jackson dead at 62

---
Anthony Jackson, the voice of many of the characters in Britain's Ivor the Engine animated series, died November 26 in London of cancer. He was 62.

One of the principal members of the Godot Company, he became ill during rehearsals of Waiting for Godot -- he was to have appeared as Estragon -- and died suddenly while the company was touring in Ireland to perform the play.

Born Anthony Thomas Jackson in Birmingham on February 18, 1944, he was known to his friends as "Jacko." Jackson voiced Dai Station, Evans the Song and Mr. Dinwiddy when Ivor the Engine was first broadcast for six episodes in 1958. He repeated the characterizations when directors Peter Firmin and Oliver Postgate remade the series in color in 1975.

He was the voice of Nug in fantasy-adventure animated series The Dreamstone, created by Michael Jupp and directed by Phil Robinson. It aired on ITV in 1990.

The 1999 animated TV series Watership Down, based on the 1978 feature film of the same name, cast Jackson as Kehar and Cowslip. A British-Canadian co-production, it also aired on ITV.

Other voice roles in cartoon TV included a turn as Puck in "A Midsummer Night's Dream," an episode of Shakespeare: The Animated Tales; "Joseph," an episode of Testament: The Bible in Animation; and "The Tale of Pigling Bland," an episode of The World of Peter Rabbit and Friends.

At age 15, Jackson began his career with the Birmingham Repertory. He appeared on the radio and in major London theaters. At 21, while studying at Rose Bruford College, he won the BBC Radio Drama Award.

For three years in the late 1960s, he was with the BBC Repertory Company. Later, he appeared in such Mermaid Theatre productions as Lock Up Your Daughters and Treasure Island. His well-known performances at provincial theaters included Toad in Toad of Toad Hall at the Nottingham Playhouse. He was seen in London's West End, as well as in English plays abroad.

On live-action TV, he was Sid James' interfering neighbor Trevor Lewis in Bless This House (1971); Fred Mumford, a ghost who comes back to found a spirits-for-hire enterprise, in the 1976-78 BBC children's sitcom Rentaghost; and Frank Bosomworth (alongside Diana Dors) in the 1973 comedy series All Our Saturdays. He could also been seen in such series as Doctors, The Bill, Footballers' Wives and Lovejoy.

Due to his talent for voices and accents, Jackson recorded audio books and radio plays as well as cartoons. He could sing traditional tunes and sea shanties alike.

During the 1980s, his voice was regularly heard on commercials for Marathon chocolate bars.

Jackson performed many readings at the Calder Bookshop and Theatre on the Cut in Waterloo, a meeting and rehearsal spot for the Godot Company.

Anthony Jackson was married. Predeceased by a daughter, he is survived by a son and two daughters.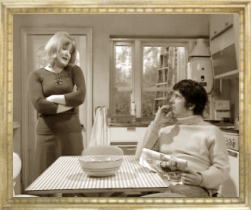 Patsy Rowlands (Betty) and Anthony Jackson (Trevor) in Bless This House.

(This post was edited by eminovitz on Dec 10, 2006, 12:37 AM)